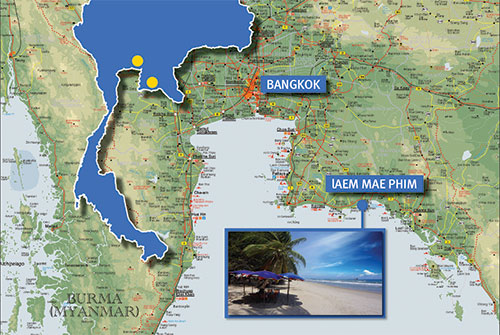 Mae Phim Beach, one of the fastest growing new beach destinations in Thailand and only 2 hours from Bangkok Suvarnabhumi airport or 1 hour from Pattaya.
Project location in the very heart of Mae Phim Beach just a minute walk from all the restaurants & bars, but still in its own seclude and discreet bay giving you the feeling of a private beach and utmost privacy.
Outstanding coastal line with numerous beaches stretching ten's of km's, which undoubtedly are one the best mainland beaches in Thailand.
Bangkok Suvarnabhumi airport 170 km's, 2 hours by car
Bangkok City 190 km's, 2,5 hours by car
Pattaya 100 km's, 1,2 hours by car
Rayong City 45 km's, 30 minutes by car
Koh Samed island, just a short boat trip away
Koh Chang island 150 km's, 2 hours by car
Cambodia border 120 km's, 1,5 hours by car